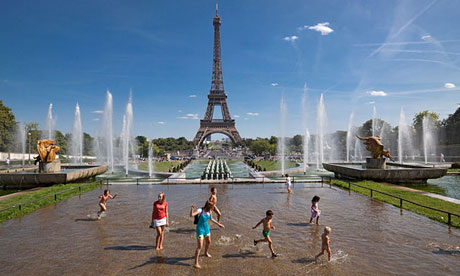 Paris is known for being a city of romance, culture, literature, but not always as a child-friendly one. However, after some research, we have found a few places that your kids will love! Have a hassle-free trip and let the attractions be the nanny for the day!
1. Teach your kids important life skills: Cooking!
Take your kids alongs to a french cooking class in Paris. It's an off-the-beath-path experience for all the family where you get to enjoy fresh, local French delicacies made by your own hands! And who knows, perhaps your little ones will open their own michelin star restaurants one day!
2. Palais de la Decouverte
Palais de la Decouverte is a science museum that opens daily, except Monday. Established in 1937 during an international exhibition, and since then the French government has expanded it into a 25,000 square metre museum, containing exhibits for mathematics, physics, astronomy, chemistry, geology, and biology, featuring experiments with commentaries by lecturers. There are countless of interactive instalments that will amaze both you and your kids. From colour paint splattering on a spherical wall to neon shadows, it's an opportunity for fun learning that has to be seized!
2. Disneyland Paris
Now what would this list be worth if we didn't mention Disneyland? This is a destination that does not require any form of persuasion. A dream wonderland for all children, and even some teenagers…
3. Fat Tire Paris
This is an activity that I will highly recommend for you and your family.
Started out in 1999, Fat Tire Paris has reinvented ways to tour the city. Fun, easy and stress-free. It allows you to stop worrying about how to get from one attraction to the other. Fat Tire Paris offers fascinating stories, countless photo opportunities and much more.
4. Paris by mouth food tours
Paris by mouth is a 'definitive blog on the city's food and wine scene' (Huffington post). Tours are lead by English-speaking food & wine professionals who have a strong passion for food in Paris. Paris by mouth focuses on personalization, hence tours are handled in small groups so that it is also easy for you to manage your children and not get easily lost.
5. Natural History Museum
The Natural History Museum, one that is similar to the one seen in Night in the museum. With huge exoskeletons of dinosaurs, blue whales and other wonders from noah's ark, it will be a great day to immerse yourself in history and go crazy with the instalments.
6. Pompidou centre
The Pompidou centre is a building that was designed with modern architecture, seemingly promoting a very fun environment through the use of rack-like levels and a long travelator connecting one level to another on the outside, shaped like a tube. Housing the Public Information library, also known as the Bibliotheque publique d'information, the Musée National d'Art Moderne is also the largest museum of modern art in Europe. With the countless amounts of opportunities available for you to experience, you and your family will never be bored!

7. Shakespeare & Company bookstore
The Shakespeare and Company bookstore is a boutique bookstore where you can bring your family to visit, pick out some books to buy and just bask in the genuinity of the store and how they pay so much attention to the little details. There are storytelling sessions available for your children as well as customization of books where you can add a spray of scent, a poem, a picture and lots more. Spend your time here after your lunch or dinner to slowly sieve through the books and find some hidden gems.
8. Jardin du Luxembourg
The Jardin du Luxembourg is known to many as a beautiful park with a great playground for children, a fountain pond for sailing boats, a marionette theater with puppet shows where your children can sit around and have a good laugh and an old fashioned carousel that even you as adults can sit on and enjoy. This is a garden where you can discover what it feels like to be a child growing up in Paris
9.Parc de la Villette
Another thing Paris is known for is its large parks, where you will often witness locals with their colourful picnic mats and sun hats. Parc de la Villette is the third-largest park in Paris whose design was picked out of 450 proposals and made in such a way as to to cultivate a wandering heart and sense of adventure to discover all the different sites at the park. Some features include the largest science museum in Europe, IMAX theatre, a concert arena, an outdoor cinema theatre where annual film festivals are held and much more! Go explore for yourself to find out more 😉
10. The Jardin d'Acclimatation
A 20-hectare children's amusement park with museums for you to explore! An attraction not to miss out on with your family.
Image Credits: 1 / 2 / 3 / 4 / 5 / 6 / 7 / 8 / 9 / 10
[icegram campaigns="612″]
https://www.bonappetour.com/images/header-banner.png
0
0
Nicole Lian
https://www.bonappetour.com/images/header-banner.png
Nicole Lian
2016-04-01 12:58:40
2016-10-19 09:42:52
Travelling in Paris With Kids? Do More - Here's how