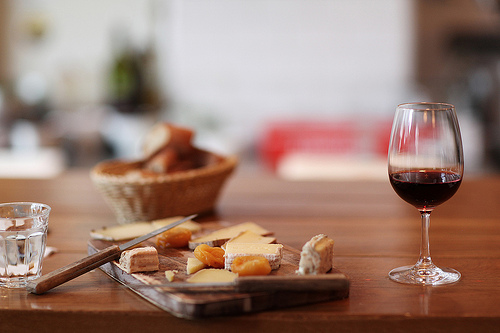 When you think of Paris, you think of the City of love, fashion, literature and producer of the world's finest wines. To find out how France become one of the world's largest producer of wines, we would have to go back to over 2600 years. The Romans came to know aobut viticulture and wanted to spread it throughout the country. It has since then become well known in regions such as Champagne, Burgundy, Loire Valley. With years of experience, France have become a master of the field. Producing wines such as Chardonnay, Château Barreyres and much more. Wine bars in France provide the perfect bridge between the rich history, culture and social significance to Parisians everyday life.There are countless wine bars in Paris that offer you the opportunity to get to try some of these amazing wines from red, white to champagne without having to pay for the whole bottle and at the same time be able to try a whole range of other wines prepared by wine enthusiasts and experts.
They say one of life's simple pleasures is drinking good wine paired with good food in good company.
Tours de Cuisine – La Cave à Vincent
Head over to the buzzing 11th district for a mesmirising wine tasting session in Paris. Not only do you get to sample the best wines in France, but you will come away a conoisseur- learning how to pair wine with different dishes. there's certainly more to it than just red or white!
Willi's Wine Bar
This French-themed bar is run by a man named Mark Williamson, who opened it in the 1980s. He has cultivated a culture around food and wine. In the words of The Guardian 'Mark Williams, […] has probably had a bigger influence on what Parisians drink today than almost anyone else.' The food is cooked to perfection and the man behind the counter, sometimes Mark himself, will be there to offer you the best wine pairings with your food. The atmosphere, food, and wine is absolutely sublime. Wine tasting and vegetarian options are also available.
l'Ecluse Grands Augustins
In the heart of historical Paris, near Notre Dame and the Place St Michel, you will see a wine bar with a royal blue canapy. L'Ecluse is known for serving absolutely divine Bordeaux wine, so if you would like to try some come on down! Order some food along with the server's recommendation of wine for that day and sit on the terrace that offers an amazing view of the Notre Dame.
Le Baron Rouge
Le Baron Rouge is a bar where all the locals after working hours flock to. Why you might ask? This wine bar is a place where you can quench your thirst with good quality vintage wine. The walls are covered in bottles and barrels from top to bottom to mark the bar as a space devoted to the glory of wine. However, this makes it difficult to move about in the bar, which is why all these blue-collar Parisians stand outside of the bar.
Verjus Wine Bar
Braden Perkins and Laura Adrian the owners of Verjus, initially started out as a highly-regarded dinner place called the Hidden Kitchen. Known for their bold, elegant, a la mode American cooking that has been the talk of the town for several years and hasn't died down yet. They later expanded in the year 2012, and have included a charming wine bar that is both cosy and stylish, located just beneath the restaurant. Verjus offers an updated monthly menu, so be prepared to be wowed every time you visit. From scandinavian-inspired trout to tender ink duck breast with rich crisp golden skin, everything tastes absolutely sublime… not to mention the wine that they serve which is absolutely divine.
Albion
Albion is a wine bar that has an underground wine cellar and geometric wooden wine racks that line the walls of the restaurant. Albion's menu changes weekly and is paired with a weekly list of wines to choose from, starting at as little as €4 a glass. Starting off with Russian-inspired salads to mains such as the cod fillet accompanied with chard, apples, walnuts and spiced chutney.
If you have been to any other wine bars and believe they are one of the best in Paris, leave a comment below! We would love to hear about it!
Image Credits: 1 / 2 / 3 / 4 / 5
[icegram campaigns="612″]
https://www.bonappetour.com/images/header-banner.png
0
0
Nicole Lian
https://www.bonappetour.com/images/header-banner.png
Nicole Lian
2016-04-01 12:41:02
2016-10-19 09:42:52
A Parisian Affair with Wine: The Best Wine Bars in Paris