Kyoto is the 7th largest city in Japan, with a population of 1.4 million people. A city that has held an undeniable role in Japan's politics and culture for over 1000 years, it used to be the capital of Japan in the 8th Century during the Edo Period.
Fun fact: Did you know that Kyoto is so heavy with historic value that it was one of the cities dropped from the list of cities to target for the atomic bomb and saved from air raids during the world war? As such, many temples, shrines and other historically priceless structures survived in the city.
A city so rich in culture, tradition, and way of life, going to kyoto would be like taking a stroll through history books. Bask in the sweet and fresh-smelling air, with majestic wooden buildings that surround you everywhere, and watch geishas that scurry along the streets and kaiseki's – no wonder it's one of the destinations you should visit when you go to Japan. As Japan continues to grow, becoming more and more modern, and in turn abandoning its old ways, it is refreshing to see that Kyoto still hangs on to its traditional roots.
With the myraid of shrines, temples, and museums that you can visit, it can be tough to pick which ones to visit during your stay in Japan, so here are the top 5 BonAppetour attraction picks that you should visit:
1. Fushimi Inari-taisha Shrine
We are sure that whilst you were searching for things to do and places to visit in Kyoto, you will have come across a picture similar to the one above. The Fushimi Inari-taisha Shrine was dedicated to the gods of rice and sake, Inari, by the Hata family in the 8th century. There are thousands of shrines that are dedicated to Inari. This is because rice and sake was seen as the patron of business, but Fushimi Inari-taisha Shrine is the most important shrine of them all. As you walk around the shrine you would realise many fox (kitsune) statues across the area, that is because foxes were believed to be the messengers of Inari.
The most iconic aspect of this attraction is the seemingly endless arcade of orange torii gates that spread across the mountain. Put on your hiking shoes and arm yourself with a bottle full of water, as this hiking trail up the Sebon Torii (thousands of tore gates) will take you at least 2 to 3 hours depending on how slow or fast you are. Half way through the hike, you will reach the Yotsutsuji intersection and here is where you can take a break on the benches and whip out your cameras to capture the beautiful scenery.
Fun fact: these torii gates are donated by individuals and companies; names of those who donated are inscribed on the torii gates and prices start from 40,000yen for a small gate to over a million dollars for a large gate.
2. Arashiyama Bamboo Grove

Walking along a path where bamboos soar above the ground beneath you – like entering another world – is a sight only to be seen in Japan. A sight captured by many, but there has never been a photographer who has succeeded in conveying the feeling you get whilst standing amongst these bamboos – being completely entranced by the swaying trees, rustling of leaves and movie-like soft and faded lighting, creating both a serene and magical atmosphere. Being on the list of 'places to see before you die','100 Soundscapes of Japan', and much more, the Arashiyama Bamboo Grove is definitely one of the must-see places to put on your itinerary for your trip to Japan.
While you are there, do take the time to explore the rest of Arashiyama. There are many other attractions within Arashiyama such as the Togetsukyo bridge which is the iconic landmark of Arashiyama. Kochi Sanso Villa, a home that used to be patronised by popular actor Okochi Denjiro. Monkey Park Iwatayama, located in the Arashiyama mountains, south of the Togetsukyo bridge is a place photographed by many! These attractions only scratch the surface! Go explore one of Japan's most charming destination on foot and armed with a camera to capture the most beautiful sights.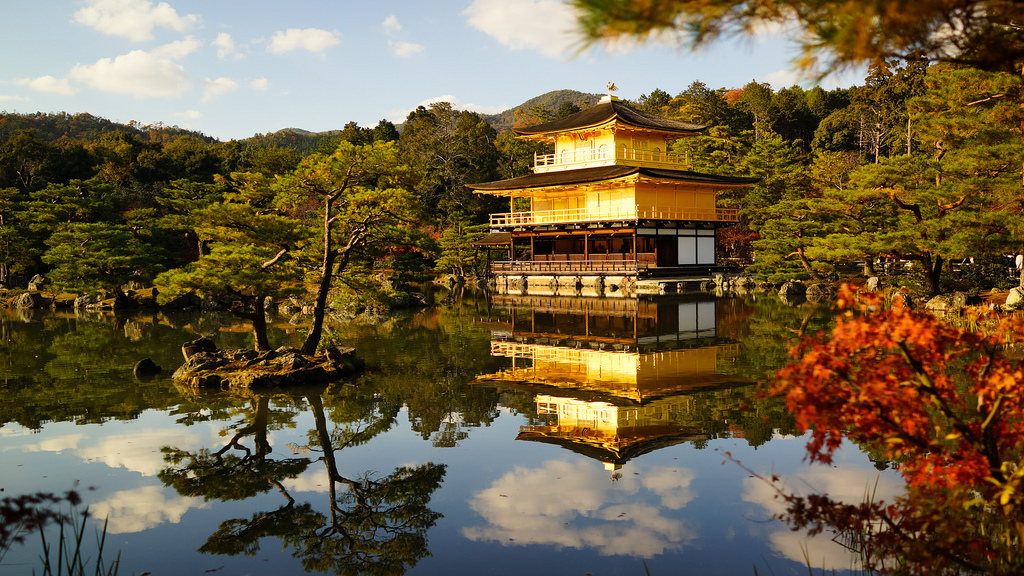 3. Kinkaku-ji
During the Muromachi Period the shogun Ashikaga Yoshimitsu acquired the Kinkaku-ji as his retirement villa. The passing of Ashikaga Yoshimitsu turned the Kinkaku-ji, a gold leaf covered temple, into a Zen temple.
The Kinkaku-ji's golden reflection shimmering across the rippled surface of the pond is one of the most symbolic view of Kyoto – no amount of tourists will draw away the Kinkaku-ji's grandeur. In the past, the Kinkakuji (also known as the Golden Pavillion) was burnt down several times. Twice during the Onin war (a civil war) and once more again in 1950 by a ultraist monk. The current structure was rebuilt in 1955.
Why is the building designed that way? The pavilion functions as a place to house relics of Buddhas. It consists of 3 levels and on each level, it is designed distinctly different from the other – the shinden, samurai and zen.
The first floor, called The Chamer of Dharma Waters, was rendered in the shinden style. The second floor, called The Tower of Sound Waves is built to emulate the style of a samurais. The third floor, called The Cupola of the Ultimate was built to depict a religious ambiance. Last but not least, the pavillion is topped with a bronze phoenix ornament. The elements of nature, death, and religion are formed together in this 3 story pavilion to evince the connection between the pavilion and structures built outside of the structure.
4. Nishiki Market
The Nishiki Market is one of Japan's most iconic markets, and is more fondly known as the 'Kyoto Kitchen'. It is easily the best traditional food market in the city. An indoor arcade full of bustling store vendors, tourists, cheap little restaurants, and stores selling both dry and preserved goods. This long, narrow, covered market occupies six short blocks at the heart of the city, just a few minutes stroll from the famous Gion District.
Despite not being the largest nor the most ostentatious market in Kyoto, the things that you will find there are paragons of the best and freshest foods in Kyoto. Selling stuff such as freshly harvested, locally grown carrots to knives and cookware. If this is not enough for you, the Nishiki Market is also a great place to find some of Kyoto's specialties, such as Japanese sweets, pickles, dried seafood, and (of course) sushi.
5. Gion District
At the heart of Kyoto, lies one of the most famous and popular entertainment district and also home to Kyoto's traditional art. If you have read or watched the movie 'Memoirs of a Geisha' you would probably be as enchanted by this place as we are. An assortment of streets defined by its old wooden machiya buildings and 17th century teahouses for Geisha entertainment, Gion is a nice place to take a stroll in and take many pictures that capture the Japan of olden times.
I recommend visiting Gion District in the night for that is when it comes alive with people and lights. You could patronise an onchaya (teahouse) and be entertained by a maiko or geiko. The Geishas will ensure a night of fun by engaging in conversation, serving drinks, playing drinking games and performing traditional music and dance for you. The services of a geisha are expensive and usually exclusive, so save up if you want to experience something so quintessential of Japan's culutre.
Note: If you happen to see a Geisha on the street, act respectfully. Do not behave like ruthless paparazzi and shove your camera in their faces.
For those of you who do not know, Kyoto was Japan's capital for over 1200 years. It served as the imperial courts kitchen and that is why overtime, Kyoto has inherited its own cuisine such as "Kyo-kaiseki-ryori," vegetarian-friendly "Shojin-ryori", and "Obanzai"​. Want to know where to get the best eats? Here are BonAppetour's top 5 best eats:
1. Kane-yo
Kane-yo is the place to go if you want to try the most sublime of Japanese dishes, Unagi. Due to its architecture and design, the restaurant overflows with sentiments of olden time Kyoto. Established during the Taisho period, the restaurant has been in business for over 100 years. This must be how they have perfected the art of cooking Unagi. The Unagi (boneless and melts in the mouth) is grilled over charcoal and paired with semi-sweet teriyaki sauce, served over rice.
The Japanese have a belief that by eating unagi, they will be able to better endure the summer heat. Maybe that is why it is so expensive because of the powers the people claim it has! Despite being expensive in general, in Kane-yo, the Unagi are priced remarkably reasonably. Head on down to taste the wonderfully made Unagi and leave a comment below for us to know how much you loved it!
2. Omen
It is known that the moment a restaurant gains traction and starts branching out, the quality of the food drops but Omen must be an exception to this rule. Having over 3 restaurants in Kyoto, and even one in New York City, they have continuously maintained an impressive high standard over the years.
Omen's signature dish is called 'omen'. It is a bowl of handmade udon noodles that you can consume either hot or cold, a bowl of tusyu (broth) and a meticulously picked out array of seasonal Vegetables that are either boiled or pickled. To complete the dish, just sprinkle a little coarse ground sesame and you will have in front of you, an amazing dish. The restaurant also has a huge à la carte menu where you can order other delectable dishes to go with your noodles.
Note: During the Cherry Blossom Period, it tends to get very busy and the queues will extend to outside the restaurants, along the roads!
3. Izutsuya
Wagyu is one of the best meats out there. Fresh, succulent and full of juices. Izutsuya is a carnivores delight. From the moment you enter the restaurant, you will be treated with the utmost royalty. It is said that the chef rears his own cows – you get what you pay for, the diamond grade beef. The beef is served together with one of the most flavourful and fragrant garlic rice and vegetables. If there is ever a time you would want to taste some of the famous wagyu beef in Kyoto, this is the place you have to visit.
4.Yoshikawa
Located within one of Kyoto's most famous ryokan inns, Yoshikawa Ryokan serves up one of the best tempura cuisine. If you happen to visit the restaurant during lunch time, you will be able to witness the chefs drudging over the huge black cauldrons of oil but when it is served to you, you will be shock to find that the tempura at Yoshikawa is so light and free of grease. During dinner time, food is served in private, traditional tatami mat rooms that look over an amazing little garden.
5. Gion Karyo
Rated as one of Kyoto's Top 10 Culture Restaurants, the Gion Karyo serves one of the best Kaiseki's in town – a traditional multi-course Japanese dinner. The Gion Karyo ensures that each dish, staying true to the kaiseki tradition, is paid meticulous attention and beautifully-presented. You will be pleased to find out that the menu changes every season in order to introduce variety. Located in Gion, one of the most atmospheric districts in Kyoto, the restaurant stands out from the rest. The old wooden machiya that used to stand in its place, was renovated into a beautiful Japanese house.
Other than visiting attractions and eating some of the best food in Kyoto, you also have to try these rather off-the-beaten-path experiences in Kyoto. Why? Just because they are that good!
Japan is not just about temples, shrines and old ryokans turned into restaurants. Japan also has one of the most scenic landscapes – some include Lake Towada, Kegon Falls and Kiso River. The Truck Train otherwise known as the Sagano Romantic Train, is a train that runs along the Hozugawa River between Kemeoka and Arashiyama.
it is one of the greatest way to enjoy the natural beauty of Kyoto. Looking at the incredible views of foliage on the ground beneath, and flowering trees in the autumn, and cherry blossoms in spring! In winter, and on every other wednesday, the train does not run. Charge your cameras and be ready to capture the near breathtaking views!
2. Hot Springs for your feet
Ashiyu otherwise known as the 'footbath' is becoming popular in Japan. Unlike usual hot springs where you would have to strip bare and enter the pool, the Ashiyu allows you to be completely clothed as it bathes only your feet. One of the most famousfoot baths is said to be located at the Arashiyama station. The great news is that it is only 150 yen per person! If you want to relieve your aching legs from a whole day of walking around, 10 minutes of soaking time will do your feet the world of good.
3. Uzumasa eigamura (Toei Kyoto Studio Park)
If you google this place, you might probably think "Oh no tourist trap!" But, there is something about dressing up as a geisha or a samurai, watching live studio performances and walking through film sets as seen on TV, that charms and attracts tourists and travelers alike to this place still.
Replicas of the old Nihonbashi bridge, the traditional court house, and Yoshiwara red light district, where live studio performances take place, usually draws most of the crowd's attention. From melodramatic lines, facial expressions and body language to over-the-top sword fights, there is fun to be had for everyone! A great place to bring your children to battle it out and play make believe for a day. For parents, you could also be spontaneous and join in the fun.
4. Cycling in Kyoto
Kyoto is mostly flat, with well-maintained roads, therefore it is very regularly voted as one of the best cities to rent a bike and cycle around. Though riding a bike may seem cumbersome, you will be surprised that it is quite the opposite. It saves time on travelling and with that time you can go and explore more of Japan!
Note: If you cycle on sidewalks, cycle with a bell and slowly. If you plan to cycle in the night, rent a bicycle light as it is illegal to ride without one. & Take note of places to park your bike! You can go down to the Kyoto Cycling Tour Project. They will equip you with all the knowledge you could possibly need to cycle the streets of Kyoto.
5. Bonappetour
If you are really looking for a off-the-beaten path experience that gives you an insight into local life, this is one to try. Organised by BonAppetour, you will be given the opportunity to go to a local's home and dine at their place, eating lovely home-cooked food, sharing stories about Japan, and learning about the best things to do in the city. The possibilities are endless! Sign up and book your next meal with a local from Kyoto.
Are there other places that you believe are the top 5 foods, attractions or experiences in Kyoto? Leave a comment below! We would love to take a look!
Image Credits: 1 / 2 / 3 / 4 / 5 / 6 / 7 / 8 / 9 / 10 / 11 / 12 / 13 / 14 / 15 / 16 / 17 / 18
[icegram campaigns="612″]
https://www.bonappetour.com/images/header-banner.png
0
0
Nicole Lian
https://www.bonappetour.com/images/header-banner.png
Nicole Lian
2016-04-13 12:09:26
2016-10-19 09:42:53
A Complete Guide to Kyoto: Food, Attractions and Experiences