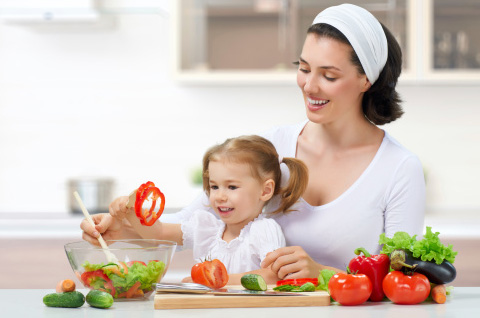 Sometimes a mother's biggest legacy is her recipes, and they are also a family's most precious inheritance. Our mothers have often sacrificed their money and the little time they have to make sure the family has a homely and hearty meal on the table. Author Mitch Albom put it perfectly when he wrote "I don't know what it is about food your mother makes for you, especially when it's something that anyone can make – pancakes, meatloaf, tuna salad – but it carries a certain taste of memory."
The inextricable link between memory and taste is a strong argument for why a mother's meal is so special, and why you proudly say "this was my mother's recipe". But it also goes beyond the realms of what science can explain, it is the healing power of your mother's chicken soup when you had the flu, the love poured into her famous apple pie and the taste of home in every brownie.
A local newspaper asked children what made their moms so special and 50%, or 8 out of 16 of the children mentioned food, meals and their mother's cooking. We were inspired by this to find out more, and turned to our hosts, many of whom are mothers looking to share their home-cooked food and give travellers a taste of what "home" and a mother's love means in another country. Here are some of the responses:
Our host Regina from Singapore is a mother to two children, Avril and Nicholas, she told us that "motherhood has made me a better person in many ways; having more patience, empathy, selflessness and true unconditional love". Her children were eager to talk about their mom's cooking and said they love it because "it is delicious and healthy…A comfort food that never gets boring because mom is such a creative cook". They also mentioned another factor in what makes a mother's meal so special, which is the excuse to "spend time together as a family".
On motherhood, our BonAppetour host, Francesca said "Having a son when I was so young made me mature, and become more responsible before other girls of my age, but at the same time it made me feel so enthusiastic and curious about life as a child. My son and me grew up together and often we are more like brother and sister rather than mother and son!" For Francesca's son it was purely the fact that the food was made by his mom, and that was why it was so special "my mum's food is the best, she always cooks with fresh ingredients and I love her simplicity in the kitchen. Her food is so special because she's my mum and she's the best!"
We do not know whether mom's cooking is so special because it is made with a handful of love, a pinch of protection and heaps of care or because of the memories we make around the dinner table. But what we do know is that home is always where mom is.
What makes your mom's dinner so special? Let us know if the comments below for your chance to treat your mom to a mother's meal with one of our hosts around the world.
[icegram campaigns="612″]
https://www.bonappetour.com/images/header-banner.png
0
0
Abby Chinery
https://www.bonappetour.com/images/header-banner.png
Abby Chinery
2016-05-06 22:54:14
2016-10-19 09:42:48
What Makes Mom's Dinner So Special?