As the second most populous city in Italy, Milan is often dubbed as the fashion capital. It is also well known for its fine cuisine and world-class restaurants. As of 2014, it has 157 Michelin-starred restaurants. Therefore, Milan can really be described as the city of decadence where shopping and eating never ends. We are going to introduce to you some of the Milanese food that you can't miss out when you are in the city.
1. Risotto Alla Milanese
Milanese cuisine features less pasta and more rice. Usually served as the first course, the use of the precious spice saffron gives the rice a rich golden color while it is cooked with other ingredients like white wine and onions. As simple as it seems, this dish is the true embodiment of Milanese cuisine: simplicity and elegance. Try this dish with our host Barbara, who serves up classic Milanese delicacies like this one!
[MILAN-BEST-RISOTTO https://www.bonappetour.com/barbara-bs/classical-milanese-evening-in-a-peaceful-home-in-navigli]​
2. Cotoletta Alla Milanese
Every city has their version of meat chops. Milan is no exception. The meat of choice, usually pork, fish or veal, is thinly sliced and dipped in a beaten egg It is then coated with bread crumbs and deep fried. The bread crumbs give it a crispy texture while the meat inside is tender and juicy. Squeeze some lemon or lime juice to top it all off with a refreshing citrus taste. Simple, but certainly not short of anything amazing, this dish is not one to be missed out on. So why not try it with our host Susanna, who offers a homey Italian Meal in the beautiful province of Pavia, just 20 minutes from Milan's City Center!
3. Cazzoeula
This pork and cabbage casserole is a distinctly Northern dish. If you are looking for comfort food or something that will surely warm you up during the cold winters in Europe, this casserole is the dish for you. The unique taste of this dish goes perfectly in winter with a polenta and strong red wine.
4. Ossobuco
Ossobuco consists of veal shanks braised with vegetables and white wine broth. This hearty dish is an excellent selection if you are looking for a flavourful meal. The veal shanks are soft and fall apart easily. Cooked with white wine and broth, the vegetables in the stew soak up all that taste. This can be eaten with Risotto Alla Milanese or polenta and mashed potatoes. Do not miss out on this dish delectable delicacy with our host Susanna, who offers an extensive Italian menu with a welcoming atmosphere that will certainly make you feel right at home.
5. Panettone
This pastry is normally served during Christmas. It is extremely fluffy and has raisins, citrons and lemon zests which give it a tangy flavor. If you are hungry on an afternoon in Milan, hop into the nearest cafe and order a panettone with a cup of hot chocolate. It will give you an instant boost and satisfy your sweet cravings.
6. Mondeghili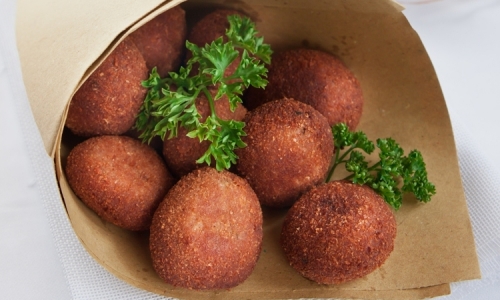 Ground beef is the main component of this dish, though pork or salami may be added to it. The meat is seasoned and dipped in a mixture of eggs, milk and breadcrumbs before being fried until it turns a lovely golden brown. Traditionally a poor man's dish, leftover meat was used to make this dish back in the day, but it is now the perfect snack on the go while you are touring Milan.
Are you tempted by these Milanese delicacies? Why not join our hosts at BonAppetour for an authentic Milanese dining experience. You can get to taste all the traditional Lombardy dishes prepared by our hosts and some even offers a tour of the city at night. What are you waiting for? Discover your next meal with one of our hosts today!
Image credits: 1 | 2 | 3 | 4 | 5 | 6 | 7
[icegram campaigns="612″]
https://www.bonappetour.com/images/header-banner.png
0
0
An Qi Li
https://www.bonappetour.com/images/header-banner.png
An Qi Li
2016-03-09 09:51:38
2016-10-19 09:42:29
The Ultimate Foodie Guide to Milan