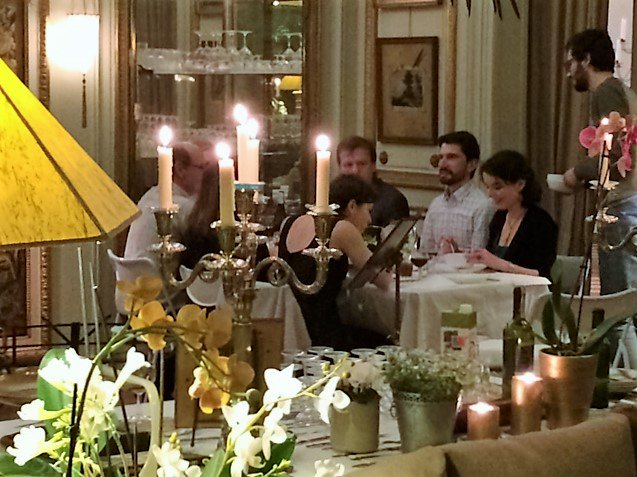 The German philosopher Friedrich Engels once quipped that "if there were no Frenchwomen, life wouldn't be worth living" and that is especially true of two Frenchwomen in particular: Bonappetour hosts Catherine and Florence. I was lucky enough to spend two fabulous evenings with these locals, who have opened up their homes in Paris to travelers and tourists alike who want to try the crème de la crème of French cuisine.
Paris is a wonderful city, and one that I am lucky enough to call my home. But even with my (almost) fluency in French, I can appreciate how hard it can be to completely immerse yourself and connect with local Parisians. Fortunately for me, I work as the Digital Marketing Manager and Paris Community Manager for BonAppetour. This means I get to test out our hosts and their dining experiences before we promote them on our site (if you want to read more about what we do and how we verify our hosts click here!). So, it basically comes down to the fact that I get to enjoy lots of skillfully prepared meals with thoroughly enjoyable company and call it "work", la vie est belle!
[PARIS-DESSERTS https://www.bonappetour.com/mesny/learn-how-to-make-macaroons]
I was invited to Catherine's abode in the 13th arrondissement of Paris, home to one of Europe's largest China towns. I was accompanied by Inez, BonAppetour's Co-Founder, with us were two lovely American ladies, Debbie, who was a journalist, and her sister. Upon arrival we were warmly welcomed by the hostess of the evening, Catherine and her husband Olivier- even their son Arthur made an appearance during the evening. It was wonderful to have an insight into French domestic life and to witness a family meal in action.
Along with the rich red wine, our conversation flowed freely. We spoke about France, the French culture and even the secret to making quince jelly, but we also shared stories about ourselves. Our conversation was meaningful and inspiring. We heard about local life in Singapore, what it means to be British and also listened in fascination to Debbie's story about her mother, who emigrated from Poland to America in search of a better life. To match the quality conversation was the superior food that was professionally put together by Catherine. I do not hyperbolise when I write about Catherine's professionalism, she trained for 5 years to become a chef, and it showed through in every course we tucked into.
I had a truly amusing evening, with the food being on par, or perhaps even better, than many French restaurants in Paris. If you're looking for a home-from-home experience with authentic French fare then Catherine is the way to go.
Another Parisian experience in the BonAppetour repertoire that I got to try was an evening in Florence's 19th Century apartment, just a turning off the famous Champs Elysees. Far from a traditional, everyday French experience, this dining event has more than a touch of luxury. I was invited along to a soiree where locals and expats mingled against an opulent baroque backdrop. The evening, organised by BonAppetour and the lovely Cara Cruickshank of Cafe de la Culture, had a theme: "The 18th century Parisian salon".
Amongst us were actors and musicians in full Marie-Antoinette-style garb. The setting and fascinating lectures about important 18th Century Frenchwomen inspired intellectual talk from the guests as we sat on tables of 5-7. Florence's food was a delight, my personal favourite being the chestnut soup…Or perhaps the little dessert bites (including my beloved panna cotta), brought along by another BonAppetour Parisian hostess, Karen.
My luxury salon experience not only showed me just how chic Paris can be, but also taught me a lot about French history, philosophy and art. It's such a great way to get the chance to peek behind the sumptuous facade of apartments that line the great boulevards of Paris, that as a tourist one often admires but can only imagine what is inside. When dining with Florence you can wait for such an event, or you can simply dine with your friends and feel transported back in time in Florence's apartment as she puts on a delicious Parisian spread.
I am very grateful to all our BonAppetour hosts that invite me into their homes and make me feel a part of a big French family. Which of these two experiences do you want to try when you are next in Paris? Let us know in the comments below!
Image credits: photos from the salon by What's Hot? Blog, read her review of the evening here.
More Great Articles about Paris
Travelling to Paris: An Essential Guide
On A Budget? Here Are 10 Free Things to Do in Paris
Top 5 Must-Try Food Trucks in Paris
[icegram campaigns="612″]
https://www.bonappetour.com/images/header-banner.png
0
0
Abby Chinery
https://www.bonappetour.com/images/header-banner.png
Abby Chinery
2016-06-03 14:40:33
2016-10-19 09:42:48
Sacré Bleu! My Parisian Dining Experience with French Locals.